DLR County Council Commemorates 1916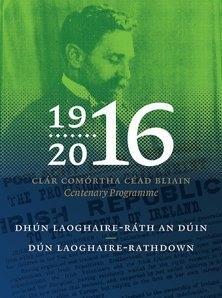 More than 170 people who lived in, or who were associated with, the Dún Laoghaire-Rathdown area played a significant part in the 1916 Rising. To commemorate this fact, DLR County Council have organised a series of events to be held throughout this centenary year.
DLR have printed a booklet listing the events, which you most probably have received through your door. The website listing the events can be found here: http://events.dlrcoco.ie/event/1916-centenary-programme.
One which many people may find interesting is "Dún Laoghaire-Rathdown and the 1916 Rising: an exhibition" which is being held from the 1st March to the 31st December, in the Former Protestant Chapel, Deansgrange Cemetery. Curated by historian Conor Dodd, this specially produced exhibition will tell the story of the 1916 Rising using the people and personal experiences of those associated with the area now covered by Dún Laoghaire-Rathdown. The exhibition will be located in Deansgrange Cemetery, where over 120 people involved in the Rising are buried.
Opening Hours: Mon-Fri 10:00 to 16:00, Sat 10:00 to 13:00