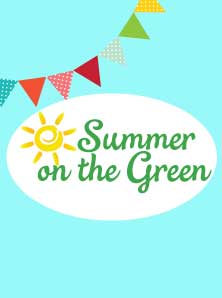 Well, despite the awful weather we had a huge turn-out for our first summer event! It was touch and go at the start; 4 o'clock arrived and no one was there.  We were afraid the rain would keep everyone away – would we be forced to admit defeat and hit the wine? But then, one by one, residents of all generations braved the downpours and joined us under the marquees for drinks, snacks and conversation.  By the end we had a huge turn-out . It was great to see everyone entering into the community spirit. Chatting with old neighbours, getting to know new ones.
Janey Mac the clown kept the kids entertained with balloons and facepainting. Prop Me Up supplied some kiddy outdoor games too.
The food was great. Savory and sweet canapés and bites, and even miniature portions of risotto. Crisps and Capri-Sun for the kids.
Stan our Chairman gave a very short speech before calling out the 7 winners of our raffle. The great prizes were: A food and drink hamper from Lynam's, a hand bag set from Select, a voucher for an early bird dinner from Farmhill Restaurant, a hamper from Roebuck Pharmacy,  a hamper from ECI Natural Health Centre, a voucher for 2 blowdrys from The Styling Lounge, and a €50 voucher from Body Harmony. If you haven't heard from us by now, then unfortunately you're not one of the winners. Better luck next time.
Plans are in motion for a bigger event in September. Watch this space…
Thanks to the businesses mentioned above for the donation of the great prizes and some of the food. Thanks to Helen Maher and all the Maher family for all the hard work they put into organising it, and to Wendy Challoner for acting as unofficial photographer! Thanks too to a very kind resident on Larchfield Road who lent us the big white marquee at the last minute when it was clear the two we had weren't going to be enough!